On a cool, sunny Sunday morning in early December we stopped in to taste at Talley Vineyards. Situated just 10 minutes from the village of Arroyo Grande and just over the hills from Edna Valley, Talley seemed like a logical first stop as we began mapping out our wine tasting guides and recording podcasts. Well known in the area, Talley was one of the early vineyards and wineries, getting started in the late 1980s.
While we had both visited Talley in the past, it had been awhile. We were greeted by an aesthetically pleasing olive tree lined driveway as we arrived. With clear signage on where to park, we found there was plenty of parking in the main lot adjacent to the tasting room. However, there also appeared to be plenty of overflow parking nearby for larger vehicles, larger groups, or even just busy weekends.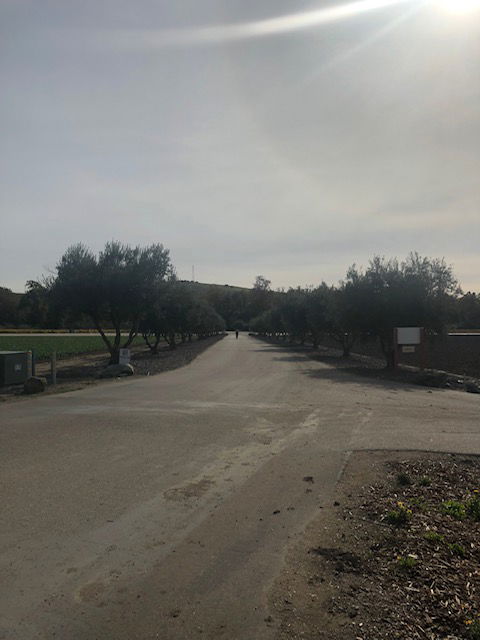 Walking up to the tasting room building, we were both impressed with the grounds. The outdoor courtyard is complete with a tasting bar, picnic tables, and even corn hole! There was plenty of room to spread out and have a picnic, while still allowing space for other groups. No one was outdoors when we arrived, but shortly thereafter a large group came in for a birthday and set up in the outdoor area. The outside area is also pet friendly, so bring your furry friend!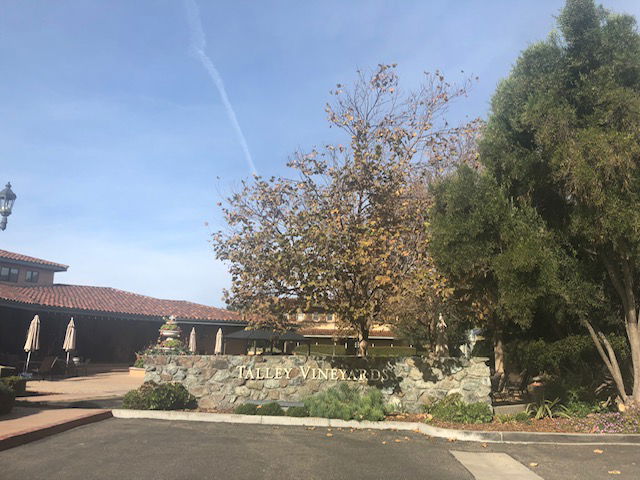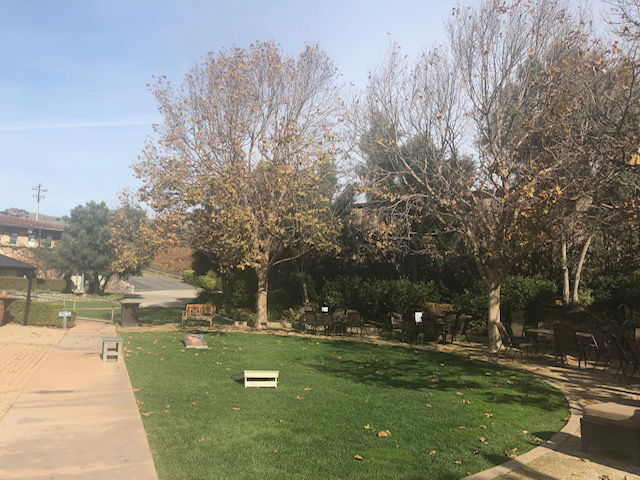 Once inside we found a large circular bar, which allows for several groups to taste at once without encroaching on each other. The tasting room has large windows overlooking some of the vineyard and the hills to the north which had cattle grazing on them when we were there. It's quite scenic and very inviting.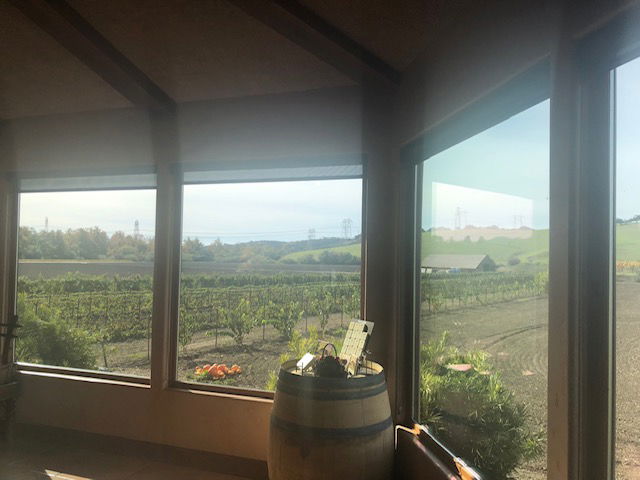 We were guided through our tasting by Kylie, who was attentive and knowledgeable. According to Kylie, the tasting flight changes about once a month, and sometimes more often during holiday season, as they switch it up to better streamline the tasting experience when it's expected to be busy. When we visited the line up consisted of two flights: Core and Distinctive. The wines on each flight were as follows:
Riesling (Core)
Estate Chardonnay (Both)
Oliver's Chardonnay (Distinctive)
Estate Pinot Noir (Core)
East Rincon Pinot Noir (Distinctive)
Rosemary's Pinot Noir (Distinctive)
Bishops Peak Elevation (Core)
While not on the flights the other two wines we tasted were the table wines available to take home in a growler- Atomic Blanc (White) & Quite Franc-ly (Red). I even took home some Quite Franc-ly.
As we recorded a podcast of our tasting experience, I will not dive into our notes on each wine here. If you'd like to hear our thoughts, please check out the podcast episode here.
Overall we enjoyed the tasting experience. Neither of us loved any of the wine enough to justify taking it home at the retail price point, but we enjoyed the tasting and especially enjoyed the Riesling, Estate Chardonnay, and Estate Pinot Noir.
We like that they are able to accommodate larger groups, rain or shine. The tasting room is large enough that even on days when the weather forces everyone in, there would be enough room without feeling overly crowded. This is a great spot to take out of town friends, or family (aka get your in-laws out of your house). Be sure to pack a picnic and maybe take a growler home!