I've been thinking a lot about my favorite places to visit in Paso. Mostly what makes them my favorite, is it the wine? The people? Their story? Truth is, it's all of it. So here's some of my favorites and why:
#1. Alta Colina.
Hands down. If you've listened to the podcast you've heard me mention them many times. You'll hear about them many more times too. For me, they have the whole package.
Great wine ✔️
Friendly, knowledgeable staff ✔️
Dog friendly ✔️
Beautiful ✔️
Easy to find/get to✔️
Red, rose and white ✔️
Plus they're a family run operation and you actually see the family there working with the staff. I really can't say enough good stuff about this place, they're just the best. Also available is the Sundowner deck, I've actually never been up there but the pictures look beautiful. Amazing views and a private tasting? Yes please! The wines aren't inexpensive, average is probably around $50 (totally my guess) a bottle and worth every penny! My personal favorites are their Rosé, Old 900 and Ann's Block. I'm positive you're going to love them and the wine too!
Oh! And don't forget to check out the Trailer Pond. You guys, my dream is to stay there. It looks SO FUN! Do yourself a favor and look it up.
#2 L'Aventure.
I LOVE their wine. But it's not as down to earth as most of the places I like. The thing is, I'm not sure what makes it not "down to earth". The staff there is delightful. They're so kind, helpful and knowledgeable. They always remember me and even ask about Chenise and how the baby's doing. Their attention to detail is wonderful and charming. Maybe it's the exclusivity, price and reservation only approach that makes it feel fancier to me?This isn't a place I recommend to everyone. With the average bottle being about $80 (totally my guess) it's not a realistic option for a lot of us. Frankly, the only reason I get it is because I joined their wine club when it was still a traditional club with a discount and not an allotment like it is now. But let me tell you...in spring they have a Rosé that's near perfection and in the fall they release their Chloe and For Her, sweetly named after the owner/wine maker's daughter and wife, (aww) and they're are worth the hefty price tag. The For Her is consistently one of the best wines I've ever tasted. So make a reservation, get ready to spend some $ and enjoy an afternoon tasting here. They also offer a private tasting in their barrel room, I've never experienced this myself, but I'm sure it's a treat.
#3 J. Dusi
This is another family run operation. And I love it! Seriously, almost the entire staff is somehow related. They have some of the oldest vines in the region and make a great wine. They're a completely different taste profile from the other 2 on the list. Their real star is, in my opinion, the Zinfandel. Wines are consistent and reliable. The tasting room is right off 46 west just outside of Paso Robles. This last year they also launched the Paper Street label! So good! The Cornflower Blue is fan-freaking-tastic! It's 100% Mourvèdre and just amazing. TRUST. This is one of my solid go-to's. It's convenient, tasty, pretty, and the family makes it very pleasant. It seems pretty kid friendly too, they have some open space and even a swing for the little ones. Their winery dog, Coco is friendly with other dogs so they never seem to mind when I bring in my Koko! They often have live music and food trucks on the weekends, particularly in summer.
#4 Onx
First of all, this tasting room is in a great spot! It's in Tin City, which is in Paso/Templeton. Great place! So many tasting rooms in one place + beer + food + spirits + cider + ice cream. Everything you need for a great day! But back to Onx. They make great wine. Their White and Rosé are fantastic!! Seriously, SO good. Most of their reds are high on my list too, but I must say, the ones I like most are rarely, if ever on the tasting menu. You're going to have to take a leap and trust me here. It's worth picking a bottle and giving it a try. They often have live music on the weekends and it's a perfect chance to sit on the patio and have a glass of wine, especially during summer. They also have a vineyard house with lots of activities, but I've never been there. It looks awesome though!
#5 Halter Ranch
Ok, first things first, they make great wine mostly the reds)! Particularly the Silver Label. They're a bit far out, on the corner of Adelaida and Vineyard. This place has the BEST covered bridge. It's got to be one of the most Instagram-able spots in the county. You can even go to dinner on the bridge (we've done this and I give it a 6 out of 10 for food but a 10 out of 10 for eating on an amazing bridge).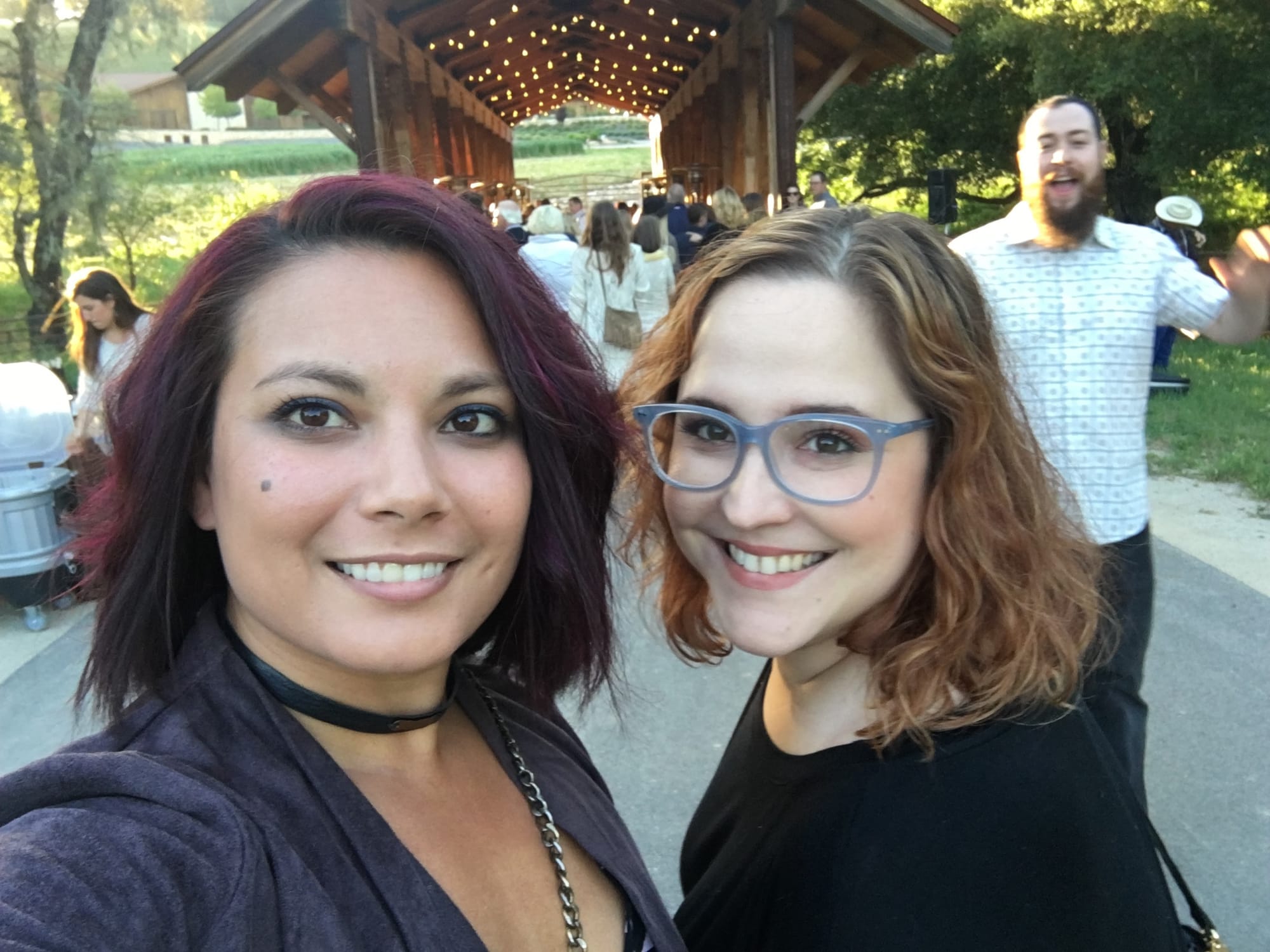 See how cool that bridge is?!? And yes, that's my husband photobombing in the background. Up the hill a bit from the bridge is the new and snazzy tasting room. It's beautiful, with great views of the vineyard and has tons of seating for a picnic. That said, I do feel like they've gotten a little big for their britches. The tasting room used to be this quaint old house on the property and it was so charming, I miss it. This place has tons of cool history and hopefully we can get a podcast to give you all the details, including the many activities they have available on the property. Bottom line, they have great wine and it's beautiful. Definitely a perfect stop.
Well folks, I hope you make it out for a visit. I'm positive if you do, you'll be happy. All 5 will make you feel welcome right from the start. I hope you enjoy them as much as I do!
-Jamie
P.S. I'm either a member or it seems to be impossible for me to leave all these places without a few bottles, so I'm not sure about the tasting fees. My guess would be $15-20 is average. Maybe a little higher for the upgraded labels, such as Paper Street and Halter Silver Label. Most places will wave the fee if you buy a couple bottles though. So support local and get it from them, not Vons.
P.P.S. Just so you know I'm for real with these choices...I served Alta Colina and L'Aventure at my wedding ceremony. Somewhere I have a picture and once I find it I will post it as proof!